Go to
Kat's
, grab a button and let it all out. There, now doesn't that feel better?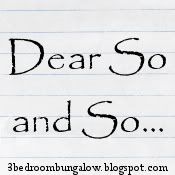 Dear Kat,
I was just about to go to bed when something clicked in my brain and put the three Dear So & So posts I just read and the fact that tomorrow is in fact Friday and not whatever make believe day I thought it was together and damn, let's see what I can shake loose from this 25 pound coconut that sits on my shoulders and can you believe how Dostoevsky-damn long this sentence is now?
Scattered
Dear Supreme Leader,
Remember yesterday how we looked all over the house for your keys and couldn't find them anywhere and even grilled the kids and looked in the freezer because where the hell could they have gone and then you found them this morning in Connor's booster seat in the van where I'd left them when I was looking for something and in hindsight left the van unlocked all night? Heh. That was funny, wasn't it.
Kisses, Hubby
Dear Highway Driving Idiots Who Stop Because They See A Police Car On The Side Of The Road,
DIE!
Seriously, do you honestly think that cop is going to drop what he's doing, jump in his car and chase you down because you might be speeding as well? Really? You're on a freaking highway! My Man-van was never meant to drop from 120 kph to 0 in that time frame. If I had crashed I would have taken you out with my dying breath.
Have a nice day.
Dear Local Radio Station,
Yes, the King of Pop died and that's sad, but this wasn't the moon landing or the Kennedy assassination. This will not be a watershed moment in my life. Sorry.
Cold-hearted
Dear Readers Who Expected To See A Picture Of My Little Baboon Today,
Meh. He was up at Kat's yesterday so we're taking the day off. If you missed it yesterday, go follow the same link as above. Don't worry, he'll be back. We've got lots of cardboard.
Lazy