Not the picture I was planning for this week, but we're going away this weekend and I ran out of time. And the first day of summer is coming up quick.
If you have time today, go check out
Cheer Up Nation
. It's a new blog by Brian of
PapaTV
. It's a whole bunch of feel good. Unless you're a cold hearted puppy hater
And finally, something else new and cool from my home girl, Kat at
3 Bedroom Bungalow
. Dear... fill in the blank.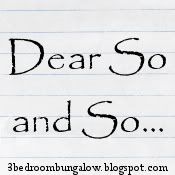 Dear Toy Makers,
I love the Transformers. The first movie was great and I can't wait from the second. What I need you to do is stop making so many effing transforming toys. Transforming Transformers are fine, but do we really need transformer versions of every other toy in existence? Seriously, what's next? Transforming Barbies?
Dear Person driving in front of me with young children not in seat belts,
When my plans for world dominance come to fruition, your kind will find yourselves lining up against the wall. The public should be allowed, no, required to drag you people from your cars and beat you senseless. If the thought of your 'rights' even crossed your mind reading this, get off my blog you murdering idiot.
Dear Spiders,
This is my house. Mine. Find your own. Go check out the neighb- Hey, did my kids invite you with some type of pagan summoning ritual? Damn those kids! I knew it!
Connor! Liam!
Go grab a button from Kat's, it's cathartic.
PS. All of the sign pictures so far have been of my youngest son, Liam. Connor, unfortunately, can read quite well for a six year old.